Report Abstract
Family separation as a result of deportation of immigrant parents living in the U.S. triggers both family trauma and economic impact to the State. A child's separation from their parents can induce depression, anxiety and aggression, which could create long-lasting negative impacts and reduce their likelihood of succeeding socially, academically and economically. With respect to the economic repercussions in Florida, the projection of massive deportations due to federal immigration policies will overburden the foster care system with an influx of children of deportees and concurrently encumber the State's budget.Therefore, it is crucial for the foster care system to re-evaluate protocols to reduce the psychological impacts on affected families and to secure the necessary resources to alleviate the anticipated economic burden. Eleven "Action Steps" to reduce the effects of family separation include; 1) the utilization of a coding system for these cases, 2) establishing community liaisons, 3) creating MOUs with foreign consulates and communication plans with parents. These are some of the key elements to achieving the foster care mission of family reunification.
To download the report, scroll down to the Downloadable Reports Section.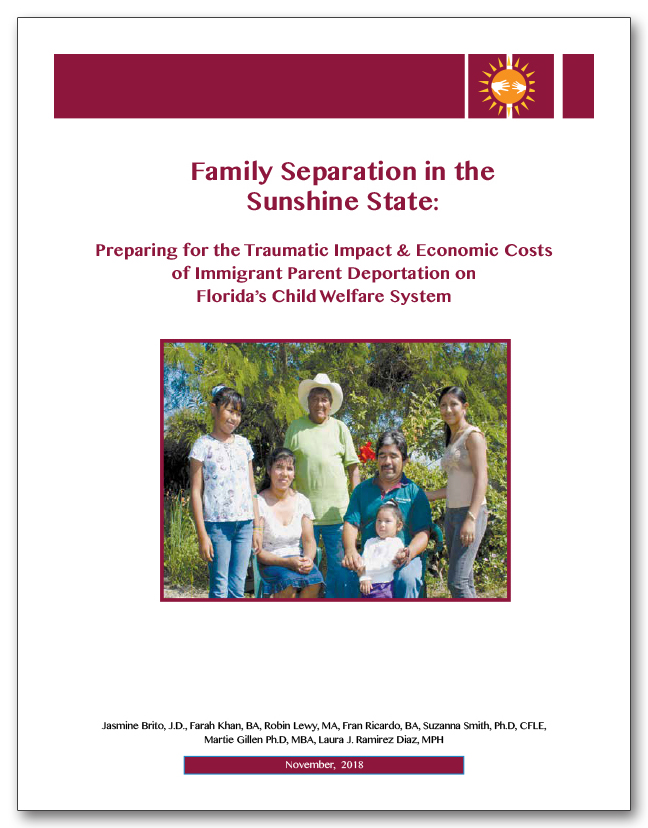 New Download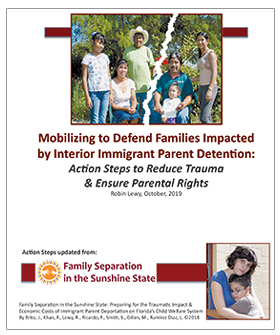 Concise Action Steps
Designed to engage a broad range of individuals and agencies serving children of immigrants, "Mobilizing to Defend Families Impacted by Interior Immigrant Parent Detention: Action Steps to Reduce Trauma & Ensure Parental Rights" provides an overview of what needs to change to reduce childhood trauma, defend parental rights and enact steps for family reunification.
Children of undocumented parents in Florida
Children of parents with TPS in Florida
Median cost of Foster Care per year in Florida
Cost of 500 additional children into Foster Care in Florida
Immigration raids occurring in the late spring and summer of 2018, highlighted the aggressive intent of the current administration to deport undocumented immigrants living within the U.S. What was also made clear was the lack of attention to the collateral consequences impacting affected families, family separation.
Fallout over the handling of the separation of families, during the same time frame at the U.S/Mexico border, created actions traumatic to children, failing to ensure a clear plan towards family reunification. This failure by the federal government is also potentially replicable at the state level. Child Welfare agencies in Florida, and throughout the U.S., do not have a plan to handle family separation as a result of parental detention or deportation. These separations, denoted by foster care and child welfare reports as abandonment, reflect a lack of insight and commitment to the mandate to fulfill Florida's DCF Mission "…to work in partnership with local communities to protect the vulnerable, promote strong and economically self-sufficient families, and advance personal and family recovery and resiliency" ("Mission, Vision, and Values", n.d.).
"Family Separation in the Sunshine State" intends to increase focus on the immense repercussions of federal policy and the urgent need to develop protocols and policies that will address the traumatic impact and economic cost that Florida will need to assume.
Downloadable Reports
Executive Summary
The Executive Summary provides an overview of the challenges facing the child welfare system.
Family Separation in the Sunshine State Report
"Family Separation in the Sunshine State" outlines the economic costs and traumatic impact of family separation due to parental detention or deportation.
Action Steps
These 11 Action Steps outline critical actions Florida child welfare should implement to support family reunification.
Downloadable Supplemental Materials

Child Welfare System
Florida's Child Welfare System: A Roadmap to Protecting our Most Vulnerable

Credible Witness Jurat/Statement
In order to notarize the POA if parent does not have proper identification. Official documents must be in English.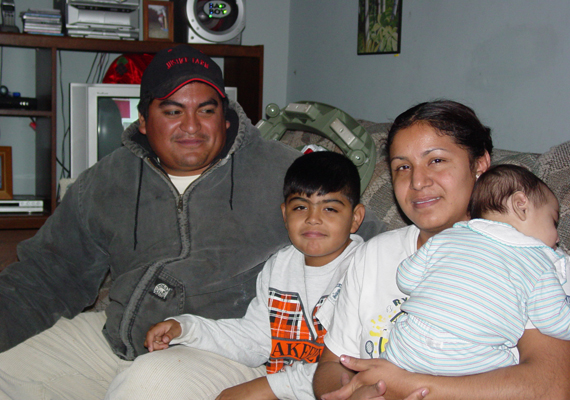 Get to know our Authors
Jasmine Brito, J.D., Fellow, Immigrant Justice Corps, Catholic Legal Services of Florida
Farah Khan, B.A., George Washington University Law School
Robin Lewy, M.A., Rural Women's Health Project
Fran Ricardo, B.S., Rural Women's Health Project
Suzanna Smith, PhD, CFLE, University of Florida, IFAS, Family, Youth & Community Sciences
Martie Gillen, PhD, MBA, University of Florida, IFAS, Family, Youth & Community Sciences
Laura J. Ramirez Diaz, MPH, Rural Women's Health Project
The authors welcome comments and suggestions. Please drop us a note at rwhp@cafl.com